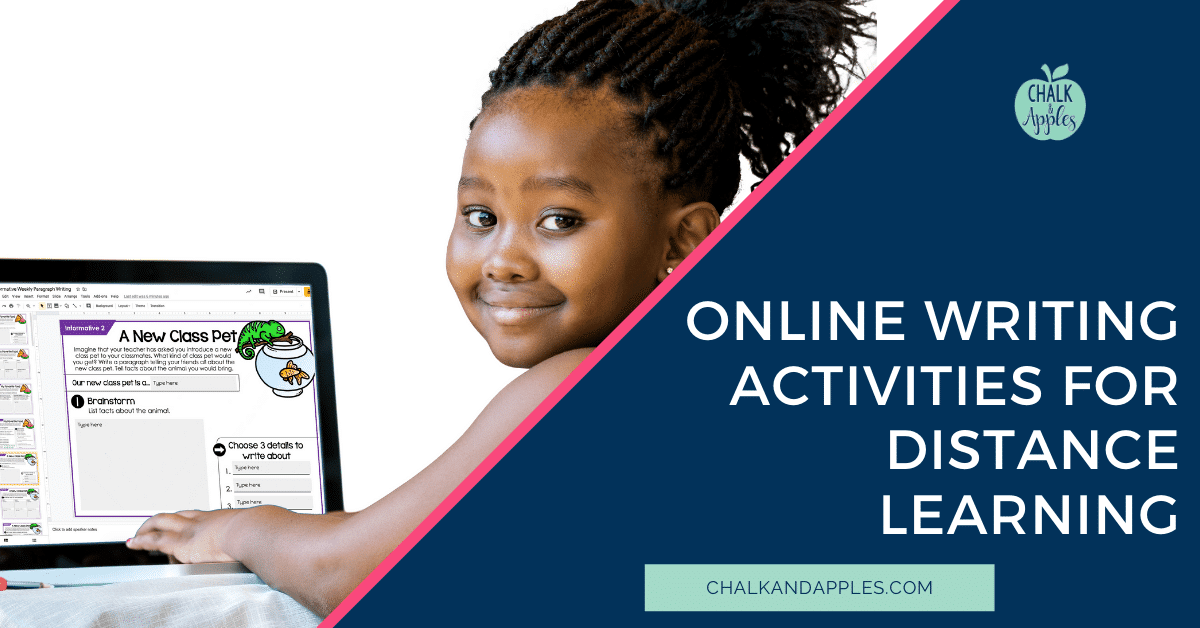 Now more than ever, it's so important to provide activities for your students to do online across content areas. Some of your students may be learning at home, so these online writing activities for distance learning will make sure all of your students get the writing instruction and practice they deserve!
Free Writing
One way to get your students writing online is through free writing. Simply put, free writing is just letting your students write whatever they want to write! Some students may struggle with this type of writing, so encourage them to put together an idea list to use when they are stuck for topics.
Assigning free writing is easy. Just share a blank Google Doc or Google Slide presentation with instructions to Google Classroom (choose Make a Copy for each Student) or Seesaw. Have students date each entry and write for the assigned time.
Make sure you have time to read their entries. Even if you don't grade or provide feedback for every online writing activity, you'll want to make sure you review free writing for anything concerning, especially if your students are participating in distance learning. Let your students know that you will read but what they share can be confidential unless what they write makes you concerned for their own safety or the safety of someone else.
Weekly Writing Prompts
Another online writing activity is using paragraph writing prompts. No matter what time of year or mode of writing you're studying, these online writing prompts are perfect to review the writing process with your students.
Each week begins with a writing prompt in one of the following writing modes:
informative
opinion/persuasive
narrative
Your students will also walk through the writing process while developing high quality paragraphs. The following sections will help students write from start to finish.
Brainstorming
Rough Draft and Planning
Editing and Revising
Editable final draft with procedures for publishing
The ready-to-use Google Slides can be uploaded to Google Classroom, Seesaw, or your chosen distance learning platform. These activities are even perfect for students in a 1:1 or BYOD classroom attending in-person school.
Email Writing
If your elementary students have access to school email, chances are you've been the recipient of a few, especially during distance learning. One online writing activity you can do with your students is teach them how to write a proper email to a teacher.
First, help your students know how to write a subject line. A few words with what the email is about is sufficient. Next, your students should properly address the teacher. (Dear Mrs. Doyle, is fine.) Then have your students write a sentence or two with their request. Etiquette is important here. Please and thank you should be key phrases. Finally, it is important for students to sign their name. For teachers that have students in multiple buildings or emails that do not include student names, this is particularly important.
Email writing may not seem like an essential writing skill for elementary students, but it's important for them to learn how to craft an email early on before they will be required to use email for classes or future jobs.
Online writing activities for distance learning can be used with in-person learners, at-home learners, or with hybrid classrooms. Teaching writing skills with online activities give your students editing rights and allow them to keep a portfolio of skills, writing samples, and collaborate with others. Which online writing activities will you use with your students?