Winter is here and I know most teachers are looking for fun, educational and engaging stories to read in the classroom. If you're like me, you like to keep things themed throughout most of the year. I've created a list of 10 winter books for upper elementary students to get lost in. This list is a combination of short, read-alouds, thrilling chapter books and funny tales.
Winter Books About Snowmen
There are two wonderful stories that come to mind when I think of snowmen! The first is Sneezy the Snowman by Maureen Wright. In this story, a chilly snowman keeps trying to warm himself up but ends up melted every time! The children are kind enough to help him back together and find solutions for his problems. This is one of the few winter books for upper elementary that is fun to read to remind students about kindness.
Another snowman story centered around kindness and gratitude is The Giving Snowman by Julia Zheng. Instead of children helping the melted snowman, it's a group of woodland creatures. I love to discuss ways this story represented kindness and giving. It's a great story to read before an activity where students share what they are grateful for either starting or ending the calendar year.
Winter Books with Math
Add in this story about a cool refreshing drink mixed with a little bit of math! The sweet children in this story are trying hard to sell their lemonade, limeade and lemon-limeade! They come up with a fun catch phrase to chant as they work! Use this story to start a math lesson or a unit on money. Lemonade in Winter by Emily Jenkins is one of the fun winter books for upper elementary and all ages.
Winter Books for Upper Elementary About Snow
Snowflake Bentley by Jacqueline Briggs Martin is a story of determination passion. Wilson Bentley has been mesmerized by snowflakes since he was a child. Once his parents could afford it, they bought him a camera and microscope so he could study his beloved snowflakes. With patience, eagerness, and determination, Bentley went on to write a book all about snowflakes cataloging their characteristics and beauty. This is one of many fun winter books for upper elementary that leads to fun activities like paper snowflakes or Borax snowflakes.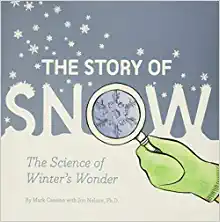 The Story of Snow by Mark Cassino is another amazing snowflake story for all ages. Upper elementary students will love the beautiful pictures and facts about snowflakes. This is a wonderful winter book for upper elementary if you do an all about snow unit for science.
Winter Books for Upper Elementary to Dream Big
Most marshmallows are born into marshmallow families, make marshmallow friends and learn to be squishy, but there are some who have bigger dreams. Just like you and me, marshmallows dream big dreams and strive for tremendous things. This is a silly story that inspires young readers to be themselves. It reminds us to remain true to ourselves and be proud of who we are. This would be a great story to read before doing an all about me project in the classroom. Students can feel more confident in sharing their lives with the class after learning that everyone can be a little different and that's ok! Most Marshmallows by Rowboat Watkins is a heartwarming story you won't want to miss.
Of course in winter you have to recap the story of Dr. Martin Luther King, Jr. Martin's Big Words by Doreen Rappaport is a fantastic way for older students to commemorate history and remember their own dreams. Through Dr. King's quotes and beautiful illustrations, Doreen takes the reader through his experiences and life. After reading, students can write their dreams for the world and their futures.
Winter Chapter Books
In Peak by Roland Smith, fourteen-year-old Peak Marcello attempts to be the youngest climber to summit Mt. Everest. This chapter book is full of twists and life-changing decisions. When Peak gets caught trying to scale the side of the New York City Skyscraper he has to either go to juvenile detention or go live with his father in Thailand. His adventures will leave you and your students on the edge of your seat.
Another thrilling chapter book is The Dogs of Winter by Bobbie Pyron. In this story, a boy named Ivan is abandoned in Moscow when his mother disappears. When all hope is lost, he is adopted by a pack of wild dogs. He find shelter and comfort with them. This is a gripping story about survival and finding your place in the world when all seems lost.
A world-renowned classic, Mr. Popper's Penguins is a read-aloud all students will enjoy. When Mr. Popper is gifted penguins, his life is changed forever. He has to alter the way he does everything. As he's sent more penguins he learns to adapt quickly, keep his home and help the little creatures survive. This lovely story has touched the hearts of many for generations.
If you're looking for a fun activity to do with your students after you read one of these winter books, be sure to check out this Snow Globe Book Recommendation activity.
A combination of these exciting read alouds will have your students enthralled as we enter the holiday season and return from short breaks. I would love to hear which winter books for upper elementary are your favorites!