One of the hardest things to do while teaching is to trust that your students can work independently while you facilitate small groups or intervention groups. The beginning of the year is the hardest time because you have to reacclimate students to how the rules and routines of the classroom work. Teachers far and wide have tried numerous things to make their center time seamless, but I have the secret to managing centers. Keep reading to find out what it is.
Set Clear Classroom Expectations
The first step in managing centers in the classroom is setting clear classroom and center expectations. This may take a week or so, but I promise you it will save you time in the long run. There are a variety of ways to teach students how to work in centers independently, but I prefer to model center time for them. Modeling may seem like something a kindergarten teacher would do, but I promise it works on all grade levels.
Not only do they find this entertaining to watch me complete center tasks, they learn a lot from the visual aspect of it. I will act out how to go to my center, begin my work, quietly turn in my work, and move on to the next task. Modeling is a fantastic classroom management tool and it goes a long way while developing new centers and teaching a new group of students.
After implementing clear expectations, you will only have to do quick checks on your independent centers during small group instruction time. You'll have more time to focus on small group lessons in both reading and math, making managing centers that much simpler. This is also easy enough to implement if you utilize a writing center in your classroom.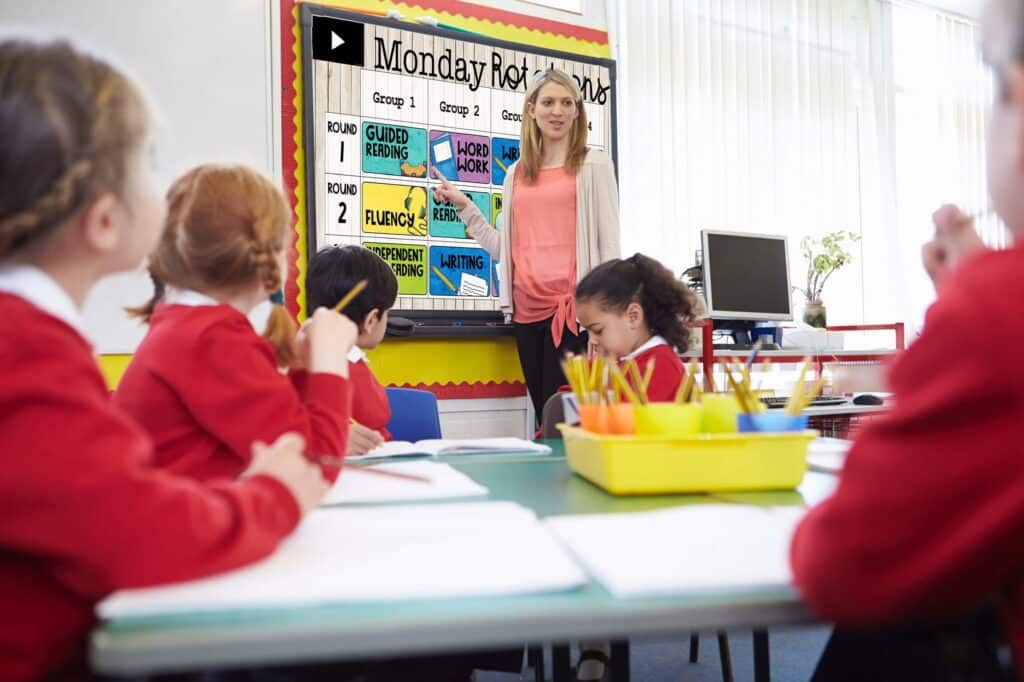 Create Center Groups That Work Well Together
You may have the urge to jump right into centers on week one. Some classes can do this, but others need time. Take some time in the first few weeks to get to know your students and determine which students will work well together and which need to stay apart. You want your reading groups and math groups to be able to work well in partners and teams during centers time without you having to play referee all the time.
You may even be able to talk to the teachers of old classrooms to determine how students work during independent centers. I prefer to observe students on my own, but this may be helpful if you need insight into what works for different students. Providing them with consistent centers and the motivation to make good choices will help with their learning and make managing centers easier.
Use an Organized Center Chart
To show students where to go during each center activity, use a pocket chart or center chart that makes rotating classroom centers easy. Even better, use Center Rotation Slides for math and literacy and make life even easier. These center slides require zero printing, laminating, or cutting. They're super simple to use in the classroom and are my secret to managing centers without the stress.
Display the center rotations on your interactive whiteboard or screen for access all throughout your math and literacy blocks. This money-saving bundle includes digital rotation boards for reading and math centers or stations. The centers include a wide variety of common reading centers and math stations! I've also included some blank, editable icons that you can edit to suit your classroom.
Set up is quick & easy – just type your student names into the groups slide, use the provided group names or customize them to match your classroom, and drag and drop the digital center icons onto the rotation board of your choice. There are several different combinations to choose. Just check out everything that is included in the Center Rotation Slides here. You'll have the perfect center system for managing centers.
Read what other teachers have to say
"This has made my center rotations so easy. I like that there was a list of different icons but also ones to make my own. A perfect resource!" – Melissa M.
"One of my absolute favorite purchases from TpT. I use this daily for rotations in my class and love this product so much. It keeps myself and my students organized and planned out each day." – Bree R.
As you can see, it's the perfect way to keep an organized classroom and manage centers throughout the year.
The Key to Making Each Center Work
As you begin organizing your math and literacy centers, keep the above things in mind. Make sure you teach expectations of small group time and have a clear center management system so students know what they should be doing at all times. Also, be sure your classroom learning centers are grouped appropriately. Create groups you know will work together and shift those groups as needed to help with classroom management. Finally, implement a rotation schedule of some kind, and feel free to use the Center Rotation Slides to make life in the classroom easier. This classroom center management technique is the secret to managing centers in your classroom.
If you're looking for More Ways to Keep Centers Running smoothly, check out this post as well.