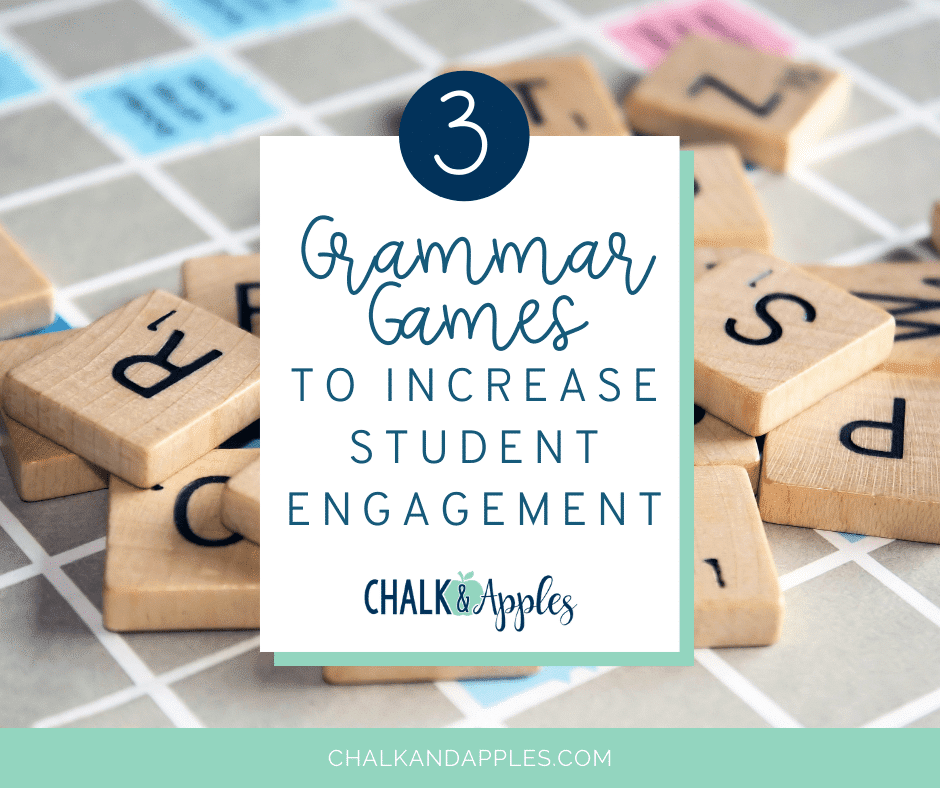 Extra effort must be put into making grammar lessons fun and engaging! Students are more likely to grasp a concept when they actually enjoy learning about it. Including grammar games in your reading block will not only engage students, but allow them to have fun while learning. Don't be surprised if you end up enjoying the games yourself! Check out 3 activities that will leave your students begging for more.
1. Sentence Structure Games
One of my favorite grammar games is sentence structure races! This is a fast-paced, tactile teaching approach that utilizes giant sentence pieces. It's a race against one another, but be warned if your team gets the answer wrong – you lose a point! May the odds ever be in your favor!
Here's How to Play:
Divide the class into groups based on your number of students.
Provide them with various components of a sentence.
Allow them to piece the sentence together while racing against the other teams in the class.
The first team to raise their hand gets the chance to read their sentence aloud.
If it is correct, their team gets a point!
However, if their answer is incorrect, they are deducted a point, and the next team has a chance to S-T-E-A-L.
The team with the most points at the end of the game wins!
2. Let's Play Ball!
Another huge hit that students enjoy playing is a good ole' game of indoor baseball! This ballgame can be as simple or elaborate as you want. Place chairs around the classroom for bases, use a plastic bat and a paper wad for the baseball, and ask questions relative to your ELA standards.
Practice Vocabulary Greek & Latin Root Words with this fun game! Have students take turns matching prefixes, suffixes, and root words, as well as, memorize the correct spelling of various words!
Here's How to Play:
Divide the class into two teams.
Ask a grammar question to the team member who is up to bat.
If they do not answer the question correctly, the team receives an out. Three outs signifies when it is the next team's turn.
When a question is answered correctly, the student gets a hit and moves a base. Students advance around the bases until their team reaches three outs.
To add an extra layer, the student up to bat may choose whether he or she is asked a single, double, triple, or home run question. (The more bases the student is eligible to move, the more challenging the question!)
Play ball!
3. S-W-A-T (Swat)
Swat is a fun, fast-paced, interactive game to develop grammar skills that will appeal to the kinesthetic learners. This game can be adjusted for various grammar lessons and can even be played virtually! For this example, we are going to be focusing on parts of speech. Place sentence strips or pieces of card stock with the different parts of speech on the whiteboard before the game begins.
Here's How to Play:
Divide the class into two teams.
A person from each team will approach the whiteboard and take a fly swatter.
The teacher will read a sentence and ask the students what part of speech a specific word is in the sentence.
The student who swats the correct noun, pronoun, verb, adjective, or adverb card first gets a point for their team.
The team with the most points at the end of the game wins!
Ready, set, go!
There are endless grammar games with countless variations to play in the classroom to increase student engagement! Students (and maybe even teachers!) will have fun while grasping grammar concepts.
I don't know about you, but I've always wanted to be remembered as that teacher who made learning fun AND developed necessary skills in students.
Pin the image below to save this post for later!