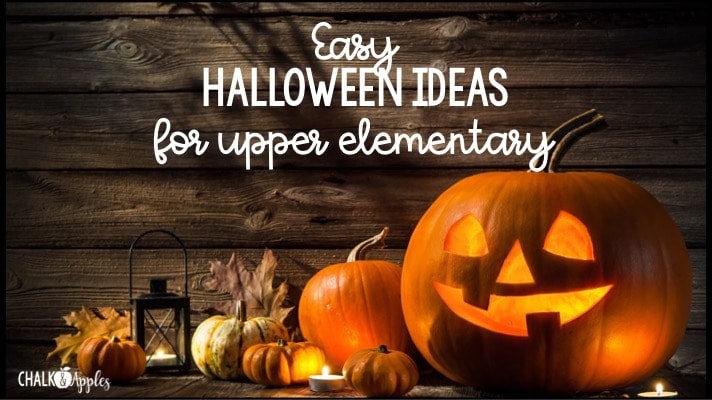 You don't have to do anything elaborate to bring some Halloween fun to your classroom. Sometimes we forget that simple things can really make a difference to our students. Here are some easy ways to incorporate a little Halloween into your week and still stick to your grade level content. Because big kids love holidays too!
(This post contains Amazon affiliate links. This means that Amazon sends me a little pocket change, at no cost to you, if you purchase through one of these links. This helps keep my site running and funds giveaways for you!)
Swap in a Halloween read aloud
Even if you're in the middle of a chapter book, it's ok to pause your usual read aloud every now and then for a seasonal read. Hands down, my favorite Halloween read aloud for upper elementary is Patrick Carman's
3:15 Stories: Things That Go Bump in the Night
. Each story only takes about 15 minutes, which is perfect for a read aloud. The stories are broken into 3 parts: a spooky audio introduction, a story to read, and a video conclusion
These stories are super spooky, and my students LOVE them! A word of caution though, I wouldn't read these below 4th grade, since they could be pretty scary for younger students.
Make copies on orange or purple paper
Sometimes the academic requirements for upper elementary make it tough to work in holiday-themed activities. If you have a totally un-Halloween topic or activity planned for that week, you can still work in a little hint of Halloween fun.
Print your copies on orange or purple paper.
This Astrobrights pack
has some great colors for Halloween. You'll be surprised how much your students like the change from the usual white paper. I still remember the time one of my high school teachers printed a test on green paper because we took it on St. Patrick's Day.
Use a spooky font
If you're creating a slideshow, test, or quiz yourself, pull in some spooky fonts or clip art. Here are some great (free) Halloween fonts:
Since some of these are a little harder to read, I'd use them only for titles or section headings on your page and use an easy to read font for the main work your students will be doing.
Halloween-ify your centers
Centers are an easy place to bring in a little Halloween fun. Students love when they see a new center, especially if it's related to a holiday they're already excited about! This
Halloween Roll & Write Activity
is quick and easy to set up, and your students will love using the story elements they roll to write a silly or spooky Halloween story.
What's your favorite Halloween read aloud? I'm working on building my collection! I'd love for you to share your favorite with me here in the comments or on
Instagram
!