As a teacher, I'm sure you know that one of the most effective ways to teach young learners is to model. We model when teaching math concepts, we model when showing students how to read, and we even model when teaching writing. Modeling writing can be tough, especially since all students have their own voice while writing. Mentor texts for opinion writing are a great modeling tool to use. They make life a little easier when introducing new writing concepts and projects.
(This post contains Amazon affiliate links. This means that Amazon sends me a little pocket change, at no cost to you, if you purchase through one of these links. This helps keep my site running and funds giveaways for you!)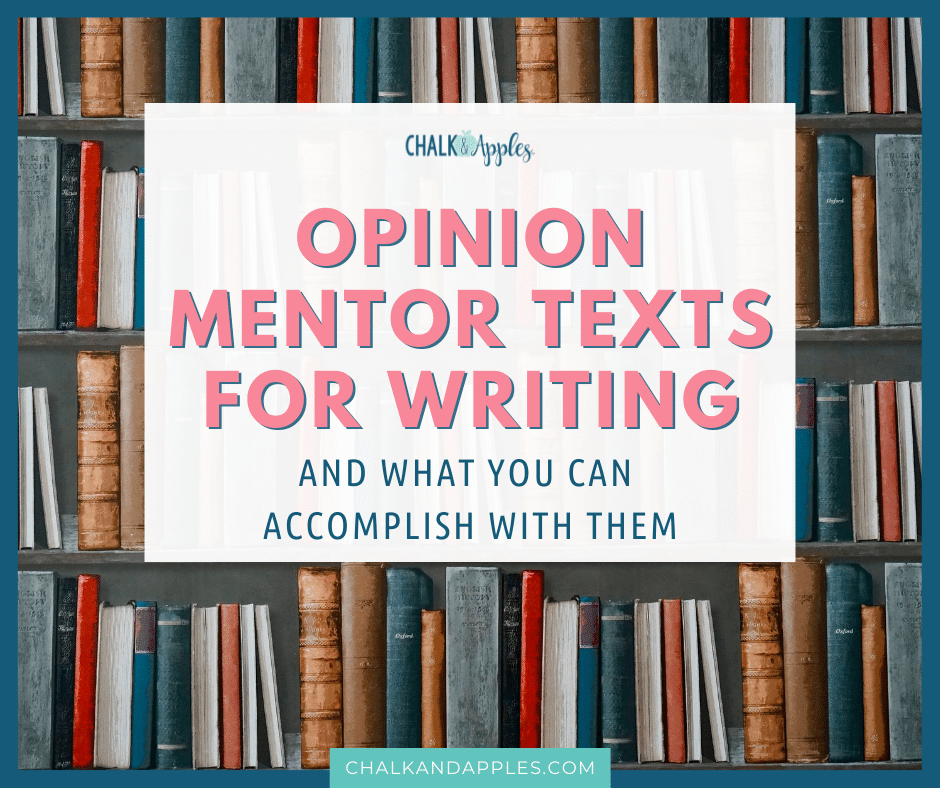 What Exactly is a Mentor Text?
When I started teaching, I had no idea what mentor texts for writing were. I had to do my research to figure out what they were and how to teach them to my class. As I asked questions and looked things up, I found that mentor texts are simply a model for students.
There are many versions of mentor texts, but the purpose of all of them is to show students how they can format their writing. Many mentor text units provide students with an example of writing that they can emulate while writing their own pieces. They can be used for informational, narrative, persuasive, and opinion writing. I personally enjoy using them for opinion writing because students can be playful with their writing.
A mentor text for writing should give students an example of how they can write their next piece. It may prompt them with questions or an outline as well. Its purpose is to guide students toward a successful writing piece without stressing them out.
Students may enjoy reading this book to discover ways to write an opinion piece in the classroom. It has writing tips, prompts, and instructions that help beginning writers. Check out You Can Write a Terrific Opinion Piece here!
Using Mentor Texts for Opinion Writing
Mentor texts for writing work well when it breaks students' writing down into chunks. It provides an example of what a finished piece should look like and then steps to create their own. In writing an opinion piece (for any grade level) we want students to introduce their topic clearly, state their opinion, and create an organized structure in which they present their related ideas that support that opinion. In stating those ideas, students should provide reasons that are supported by facts.
They should also use phrasing that ties their sentences together such as for instance or in addition. Once students have effectively relayed their opinion and the facts, they should provide a well-thought-out conclusion statement that drives their thoughts.
How to Write an Opinion Piece is a great mentor text to get students started when they feel stuck! If you're looking for a book to demonstrate how to introduce a topic, gather facts, organize ideas, use linking words, write a conclusion, and use technology to research ideas, this book is extremely helpful. Students will love studying mentor texts with this simple book.
Which Mentor Texts to Use
Mentor texts for opinion writing can be found everywhere and you can even create your own from books you enjoy reading to the class. Books are always a fantastic mentor text to show students how to write in different styles.
This picture book is filled with images that can prompt students to write creatively. This engaging resource is part lesson plan and part inspiration for young writers.
Resources to Use
If you're looking for No-Prep Opinion Writing Paragraphs check these out! There are ten writing prompts to choose from and they each cover a week's worth of writing. Students get to see how their writing pieces should sound and are provided with questions and prompts to get their brains thinking before they put pencil to paper.
Weekly paragraph writing allows your students to practice writing well-organized persuasive paragraphs on a regular basis, and make them better writers. By using these mentor texts for writing, students are able to get into a consistent routine to improve their skills. They won't question what their tasks will be each day and will feel more confident and prepared to write.
These No Prep Writing Paragraphs are part of a Paragraph Writing Bundle that covers the entire year. Students work on narrative, informational, opinion, and descriptive pieces. Each unit is available in print or digital versions so that you can use them in the classroom and at home.
Your students will feel more confident as they use strong mentor texts for opinion writing that model what their writing should look like. Pin the image below to save this post for later!