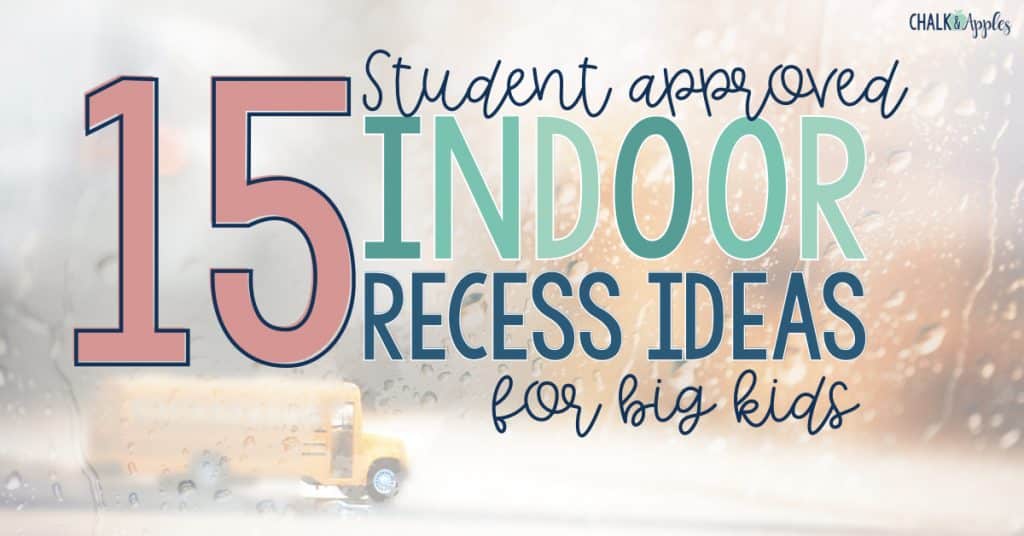 Rain. Snow. Cold. When recess moves inside, and students go stir-crazy. Teachers dread indoor recess almost as much as students (maybe more), but if you keep a growing list of new and different indoor recess games, your students will still have a chance to get the wiggles out and clear their minds. Here are 15 of the best indoor recess games for big kids (according to my 4th & 5th grade students)…
1. Crafts & Art
My students always LOVE to draw and craft. ArtForKidsHub is one of my favorite sites for this. There are tons of directed drawing activities for all seasons and topics. My students (and I!) have drawn some seriously adorable pandas, a husky, Rudolph, and a snowman. There's a paid membership available, but there are also tons of free videos. You can also find ideas and videos for 3D crafts and paintings. Don't underestimate the value of free drawing time, either. Students don't get nearly enough time for art, so they relish the chance to draw whatever they want!
2. Mannequin Challenge
A few years ago, there was this mannequin challenge going around social media, and my students were obsessed. I've always believed in using what's popular for my own benefit at school, so I started doing a mannequin challenge during indoor recess or when we were waiting in the hallway. It's not all over social media anymore, but students still love to play.
Here's how to play: Have one student be the judge and turn their back to the group. Everyone else has a chance to move or dance around. When the judge turns around and calls "mannequin!" everyone must freeze in place and hold the pose. The first person to move is out. Added bonus: it's relatively quiet, since mannequins can't talk!
3. Kahoot!
If you're already using Kahoot! in your class, you know how much the kids love it. What you may not know is that there are tons of non-academic "just for fun" Kahoot!s out there. My students love to play random trivia during indoor recess. If you haven't used Kahoot!yet, you can read more about it in this post. (Oh, and if you want to play a little Walking Dead trivia in between seasons, you can totally find those on Kahoot! too… just maybe don't do that at school! Just sayin'.)
4. GoNoodle
If you don't already know about GoNoodle, do yourself and your students a favor and go check it out! The site has tons of brain break videos to get kids up and moving throughout the day. Most videos are between 2-4 minutes long, but there's also a section of Indoor Recess Mega Mixes that range from 7-19 minutes. Exercise, guided dances, free dances, silly rhymes, you name it, GoNoodle has it. You do have to create an account, but it's free!
5. Four Corners
This is a classic that we loved when I was a kid, too. Each corner of the room gets numbered, from 1 to 4. The teacher is "it" for the first round. The "it" person closes their eyes and counts out loud to 10 while everyone else chooses a corner of the room to go to. Before opening their eyes, the "it" person calls out a number from 1 to 4. Everyone in that corner is out. Play continues until only one person remains, and that person becomes "it" for the next round.
6. Would You Rather?
Kids LOVE playing Would You Rather? – maybe because we get to talk about lots of fun (and gross) possibilities that usually don't come up in class. Basically, you just give students two options, and they have to decide which one they'd rather do. For indoor recess, and to help get the wiggles out, I usually use a tape line on the floor and have them hop from one side to the other depending on their answer. They also make great get-to-know-you questions for morning meeting or back to school. You can make up your own, but I love having ready to go sets of questions on hand, like this Would You Rather set from Cassie Dahl: Teaching & Technology.
7. Hot & Cold
Choose one student to be the hunter, and have that person step into the hallway. Hide a small item (we use a white board eraser) somewhere in the room. Call the hunter back in, and have him/her start searching for the object by walking around the room. If the person is far away from the object, students say "cold." When the hunter is close to the object, students say "hot." This is a great opportunity to practice shades of meaning by having students use various words according to the degree of hot- or cold-ness – icy, freezing, frigid, blazing, warm, scorching, etc.
8. Guessing Game
This one's a huge hit! It's kind of a new take on charades or the Headbandz game. Have each student write down 1-2 things on a slip of paper. It can be anything that the rest of the class would recognize – school supplies, super heroes, TV or movie characters, songs, etc. (Sometimes it helps to give students a category for the day.) Fold them up and put them all in a cup or bucket. Split into two teams – we like to play boys vs. girls – and sit in a circle, alternating team 1, team 2.
Play is in 2 rounds. For round 1, students may use any words other than the actual clue that's written down to describe the clue and get their teammates to guess it. Each player gets 60 seconds to get their team to guess as many clues as possible. One point is awarded for each correct answer. Alternate teams until all of the clues have been guessed, and then put them all back in the bucket to start the next round. Round two gets a little tougher, because students may only use one word. The game can stretch over multiple days, or you can just play for as long as your indoor recess period and end the game there.
9. Balloon Volleyball
This one's an oldie, but a goodie. Blow up a balloon, and have everyone sit in a circle. Toss the balloon up in the air, and bat it around the area, trying to keep it from touching the ground. I go with a "no rules" approach on this one, but if you find you need them, you can make a few rules to keep students calm enough for indoors.
10. Heads Up, 7 Up
I can't imagine anyone who's not familiar with heads up 7 up, but just in case you need a refresher…
The teacher chooses 7 students (or less if your class is small) to be "it." Those students come to the front of the room while everyone else puts their heads down and one thumb up. The "it" students quietly walk around the room and tap one student each before walking back to the front. When everyone has chosen someone, the teacher calls "heads up, 7 up" and each student who was chosen stands up. Everyone tries to guess who picked them. If they are incorrect, they sit down. If they are correct, they swap places with the person who chose them, and the game begins again. Easy. Quiet. Hours of fun. (seriously… they'd play for an hour if I let them.)
11. Let them play!
…with your math manipulatives. Seriously, it's amazing how excited students get about free play time with those snap cubes, playing cards, and solid shapes you've been using for math. I guess it's because those are totally different from any toys they have at home. Just be sure students understand that they may only play with the manipulatives is during recess.
12. Board Games
Do you have a ton of old board games at home that you don't play? Bring them in, and let your students play for indoor recess. If you don't have any, you can buy many of the classic board games pretty inexpensively these days. Here are a few my students love (affiliate links):
13. Cup Construction
Talk about easy prep. Just pick up a big pack of paper or plastic cups, and let your kids get creative! Challenge them to build the tallest cup tower in teams, or just give them free building time. It's amazing what they can come up with given a little free time and some cups.
14. Indoor Hopscotch
Use painter's tape to create a hopscotch board on your floor. Have students toss a soft ball or even a ball of paper instead of a rock. (Be warned, you'll probably have to teach them how to play!)
15. Silent Ball

No list would be complete without mentioning the game that's been loved by students for generations. Students sit on top of their desks and toss a squishy ball to each other. Rule #1 is to stay silent, which makes this a perfect game if the class next door is testing or something and you need to stay quiet. Students are out if they talk, fall off the desk, or don't catch the ball.

Keep this in mind:

No matter what activity you choose, you won't please everyone. Instead of forcing your students to participate in something they hate (forced family fun, anyone?), provide some alternatives that students can do if they aren't interested in the day's activity. Keep a selection of sudoku games, logic puzzles, word searches, crossword puzzles, etc. that students can choose from if they aren't interested that day, and reading or free writing is always an option.