Fall parent-teacher conference time is just around the corner, and you are getting ready to share all the amazing things your students have done this year. Conferences are an important time to connect with each student's family and discuss their academic performance and behavior at school. It doesn't have to be stressful! Here are some simple tips for successful and effective parent-teacher conferences
Try digital parent-teacher conference sign-ups
Use an online sign-up site like SignupGenius, or even just a simple Google Form to schedule times for students and parents to arrive. After utilizing this simple sign up method, send reminders home to parents letting them know how excited you are to meet with them on conference day!
Sit side-by-side
When I first started teaching, I held parent-teacher conferences at my desk, but that was the wrong move! Sitting side by side sends the message that you're partners in their child's education and that you're on the same team. Try to use a round table or sit side-by-side at student desks rather than sitting behind your desk or your small group table.
Organize assessment data year-round
Don't wait until right before your parent-teacher conferences to get assessment data from math and reading skills tests ready. Simple, customized conference forms make it easy to share assessment results with parents all year-long and especially at conference time.
With these personalized parent-teacher conference forms, you can fill in student names and data for up to 10 subjects and/or data points on the class roster. Then instantly print a customized conference form for each student. This is a great way to conveniently share results with parents as well as keep data accessible for your own planning and differentiation!
Let each student have their own protected conference time
Setting up the schedule helps, but it's also nice to put a sign on your door so other families know when a conference is in session. This helps to keep conferences moving along without interrupting private conversations with your students and their families.
This also makes sure to protect the time of the families that made appointments with you and arrived on time. Focus on one family and one student at a time with signs that allow everyone to know when a conference is in session.
Start and end with the positive
During parent-teacher conference, you'll want to discuss what the student is doing well, as well as areas that need improvement. In some cases, there may be difficult points you need to bring up in regards to academics and behavior.
Start every conference with a positive comment about the student. This may be their outgoing nature in class or their leadership abilities. Perhaps, it's an academic strength. Even if the student is struggling, you can find something great to share. Follow up with something they need to work on. At the end, share another positive attribute, and reassure parents that you're on the same team.
Share opportunities for growth
On the flip side of that coin, there are children in every class who are just model students. These are the students you can't think of a single negative thing to say about. Chances are, their parents hear the same thing every year: "So and so is just amazing! I wish all my students were like him!"
Instead of leaving it at that, do your best to come up with at least one opportunity for those students to grow. Maybe it's in choosing books from a new genre to read or trying to make new friends. Parents like to have something they can take action on following the conference, and it lets them know that you're not just phoning it in.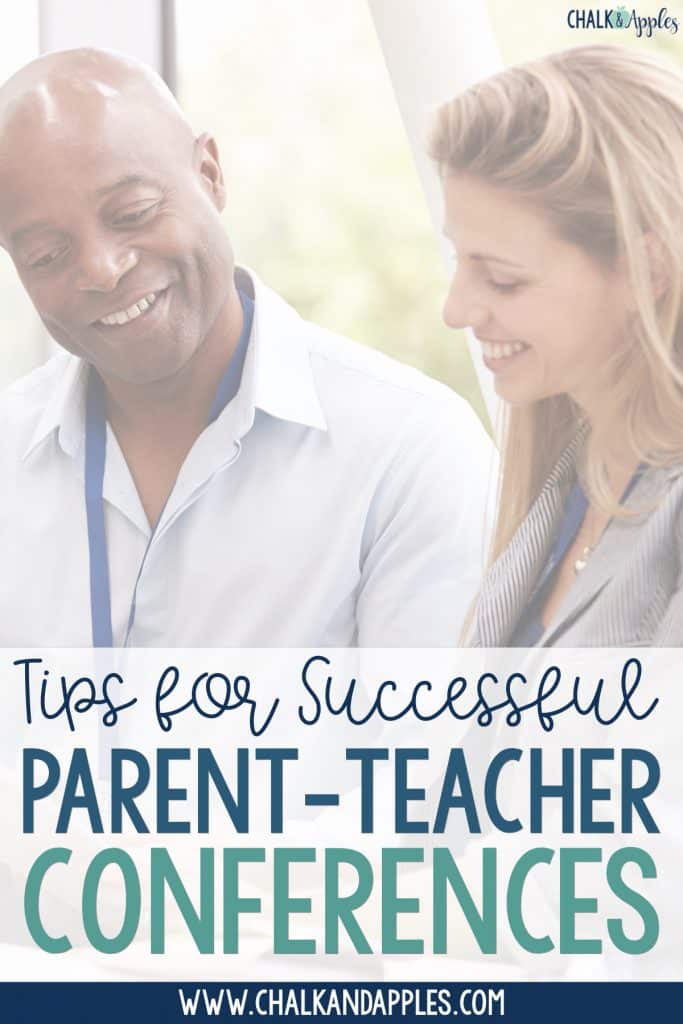 Parent-teacher conferences do not have to be a stressful time. My instant parent-teacher conference forms make it easy to collect data, schedule appointments, send reminders, and have a start to finish seamless parent-teacher conference day!
These tips for successful parent-teacher conferences will help your parents, students, and you enjoy this time of year. Make sure to revisit these tips for spring conferences or anytime you meet with parents throughout the year!