Teachers have about a million little supplies that we use daily. I don't know about you, but I always seemed to end up with at least one cluttered, unorganized desk drawer full of supplies. Pens. Stickers. Paper clips. White out. Extra staples. Post it notes. Tape. Binder clips… The list could go on and on. Whether you're thinking of ditching your teacher desk, or you're just trying to get organized, a teacher toolbox is the perfect answer! Today I'm sharing how to make a teacher toolbox that's durable enough to last.

Teacher toolboxes have been around for a while. In fact, my very first TPT resource ever was a set of labels for my first teacher toolbox. Given how popular they've been, I'm often surprised to hear that teacher friends either haven't heard of them or don't have one.
Making your own teacher toolbox is cheap, pretty simple, and will get you organized in no time! There are lots of different ways to make your toolbox, and some are more durable than others. The last thing you want is to invest in a toolbox and then have to re-do all your work next summer because the paint is chipping and the labels are falling off. Trust me, I know. Check out what happened when I followed some other tutorial that said to use double sided tape…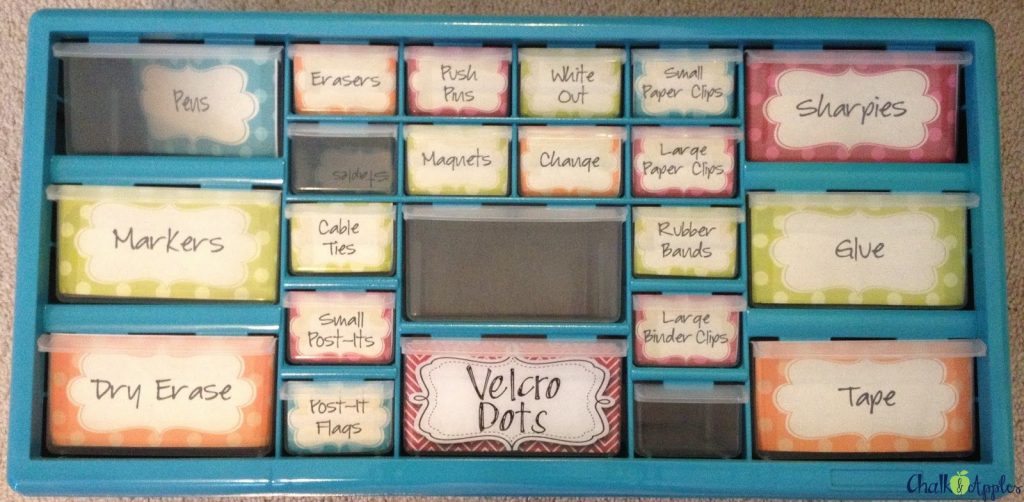 Poor, sad toolbox. As you can see, the tape definitely lost its stickiness over the course of the year. One of my labels was even lost!
Here are my best tips for making a toolbox that lasts for years and years. In fact, after making mine this way, I used the same toolbox for three years without needing to fix anything at all. When I did change it, it was still in great shape; I just felt like a new design. Here's how you can make yours last too…
(This post contains Amazon affiliate links. This means that Amazon sends me a little pocket change, at no cost to you, if you purchase through one of these links. This helps keep my site running and funds giveaways for you!)
You'll need…
You can grab all the supplies on Amazon or at your local hardware store, and the labels are in my TeachersPayTeachers shop.
Create your toolbox & make it last.
If you don't want to keep the grey color that the toolboxes come in, you can spray paint it any color you want. Take out the drawers & set them aside. Wipe down the entire toolbox with a dry, lint free cloth to remove any dust. Spray with light, thin coats of spray paint formulated specifically for plastic, like Krylon Fusion. (The other stuff flakes and peels off.) I needed 3 coats to completely cover my toolbox.
While your paint is drying, edit and print out your teacher toolbox labels. You can print them on plain paper, no cardstock necessary.
Before you cut out your labels, spray the entire page with a light coat of aerosol hairspray. Any brand will do. I just used the Bravado hairspray that was already on my counter. (BTW – it's a.maz.ing hairspray!) This seals the ink on the page so that it doesn't run and make a mess of your toolbox.
Once the hairspray dries, go ahead and cut apart your labels and get your Mod Podge supplies together. I just used an old envelope to paint on, since that was what I had handy.
Paint a thin coat of Mod Podge on each label. I've found that a super thin coat is key. You want to cover the entire label, but don't soak it with globs of Mod Podge.
Press the label onto the inside of the drawer. Don't worry if it doesn't go on straight, you have a couple of minutes to reposition the label before it starts to dry.
Once the labels and organizer are all dry, pop the drawers back in, and you're ready to organize!
Organize your desk supplies.
So, now that your toolbox is ready to use, what goes inside?
All. The. Things. Seriously. Think of things you use daily, especially small things that generally come in tiny boxes that you lose or break. Here are some suggestions:
Large drawers
Erasers
Post it notes & flags
Large binder clips
Tape
Magnets
Wall hooks
Small drawers
Staples
White out
Rubber bands
Small binder clips
Bandages
Spare change
Brass fasteners
Paperclips
Velcro dots
Chalk
Zip ties
Push pins
3M strips
Earbuds
I'm sure there are things I'm forgetting. That's why all of the
teacher toolbox labels
in my
TPT shop
are editable. Add anything that's cluttering up the junk drawer in your desk, and make it work for you!