The end of the year is always busy and stressful. Whether your school requires you to pack everything every year or not, there's ONE box every teacher should absolutely pack at the end of the school year to make sure you get off to a smooth start when you go back to school in the fall. If you're moving classrooms or buildings, it might even be a lifesaver if things get lost in the move! 
This summer's going to be a crazy one at my school. We're getting out later than ever (mid-June for teachers), and we return earlier than ever (last week of July). It's all because of a bunch of school construction in our district over the past few years. 
While I am SOOO excited to be moving from our super old building into a brand new, gorgeous school, moving over such a short summer break is definitely stressful! (What if the movers lose my box of guided reading books?!?!?) One of my super smart teacher friends suggested that we all pack this ONE box before school gets out, and it's genius, so I asked her for permission to share it with you. 
Pack a Back to School Emergency Box
When your school has summer construction, you move classrooms, or move buildings like me, there's always the chance that something gets lost. Maybe the movers put your box in the wrong classroom, or maybe you just forget which box everything is in. (That's probably more likely, especially in my case!)
Either way, it's smart to pack one box with everything you need to teach the first week. Literally… everything! Books, copies, student supplies, a pared down teacher desk. Basically, I could teach the first week of school in a FEMA tent if I had to with just this box! 
I'm including Amazon Affiliate links, just in case you need clarification on what kind of bins I'm using.  When you use these links, I earn a few pennies to keep my blog running at no cost to you.
I used several plastic boxes that I already had in my classroom, so don't feel the need to run out and buy exactly these. Just scrounge around your room and see what you already have that will work! In my case, I'm using several
small plastic shoeboxes
and a
slim plastic file box
. Once I pack all the smaller boxes, everything goes into a
large plastic storage bin
. 
Exactly what you need in your box depends on your style and what you teach, but here's what's in mine:
Teacher Desk (in a small plastic shoebox)
a few colored pens (Flair, because… you know!)
Post-it notes (the big lined kind because they can serve double duty for notes home to parents)
a few dry erase markers & one eraser
some Sharpies and chart markers
scissors & tape
stapler & extra staples
paperclips & rubber bands
Student Supplies (in another plastic shoebox)
presharpened pencils (box of 30)
a manual pencil sharpener (mine's from Classroom Friendly Supplies)
glue sticks (15 or so)
markers (6 sets)
anything specific needed for first week activities (I have dice, for example)
paperclips 
First Week Teaching Materials (in the file box)
a class set of copies for each activity I plan to use in the first week (each activity is in its own folder)
picture books to accompany lessons
a pack of notebook paper
open house necessities (student info forms, blank checklists, etc.)
a chapter book for read aloud
Extra Stuff (loose and/or in another shoebox)
Kleenex
Band aids
hand sanitizer 
pack of copy paper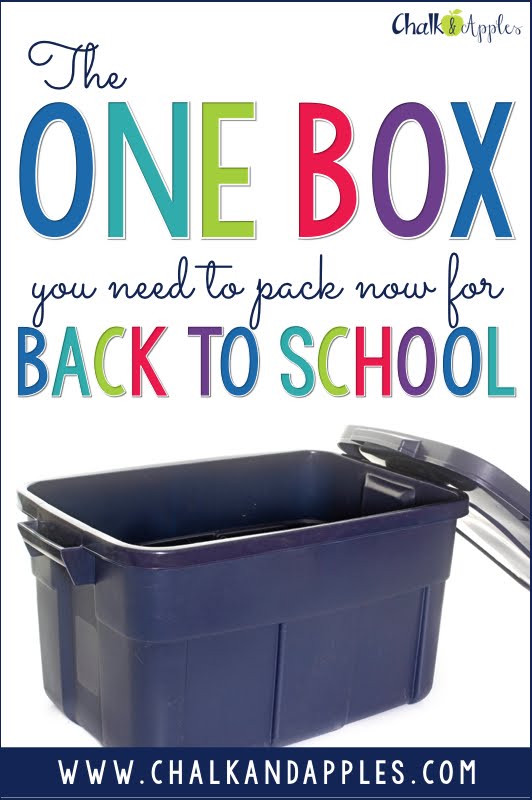 So there you have it… my emergency, could teach in a cave if I had to, back to school necessities box. I'm finishing packing mine this week. What am I missing? Is there anything else you'd put in your box? Help me out!