As the end of the year approaches, you may be brainstorming ways to make your end-of-year celebration fun. Instead of using boring superlatives and plain awards, try making student awards funny with interesting superlatives. The kids will get a kick out of it, and you'll have fun coming up with the awards before the school year is out.
Here's a list of fun superlatives to use, as well as editable templates to grab for the end of the year! The awards are a great way to foster classroom community and to create fun memories before the kids move on to the next grade level.
How to Make Student Awards Funny
Need some inspiration while creating your student awards? Here's a list of ideas to make your student awards funny and to get your class laughing together as the school year closes.
Bathroom Sprinter – this student is always making a beeline for the bathroom
The Busy Bee – this child works hard to get things done
Top Celebrity – everyone knows this student, in and out of the classroom
Comical Comedian – every class has a comedian
The Human Clock – this student always knows the time or is always asking about the time
Mr. or Ms. Chit Chat – your most talkative student
Cool Crutch – this is someone the others can lean on when they need help
Daring dancer – choose a student who loves to dance when the music comes on
The Lion or Lioness – your bravest student (maybe they took care of an insect or two for you)
Curious George – find a student who is extremely inquisitive
Cool as a Cucumber – this student is calm and collected most of the time
The Tough Cookie – this student has overcome adversity and is as tough as nails
The Giggler – this student will laugh at any and everything
The Grammar Police – for a student who always catches the mistakes
The Bright Bulb – this student is always full of great ideas
The Reporter – this student is eager to report the news of the school
The Peacemaker – always seeking peace in the classroom among students
Robo-Kid – this student is always on task and disciplined
The Sweetie Pie – your kind-hearted student
As you create your superlatives, think about common traits in your students. If you have a student that always wants to read, no matter which block you are in, dub them the Book Worm. Students who can always fix something with what's on hand give them the Duct Tape Award. Think of things that pertain to your personal students and run with it! They will find it hilarious and absolutely charming.
More Student Awards That are Incredibly Funny
These are awards that are a bit more sarcastic and geared toward older kids. If you teach 5th grade and above, they may be well-suited for your classroom. You know your students better than anyone and whether they will appreciate these witty awards.
Most likely to break something – for students who are a bit clumsy but can laugh about it
Most likely to need a compass – give this to a student who is always getting lost in the building
The biggest drama queen/king – make sure this is a compliment to whoever receives it
Most likely to win an Oscar – hand this off to students who are great actors
Most likely to go on American Idol – for those who always want to sing
The "I Tried" Award – some students recognize that they did their best
I don't need to study award – for the student who never wants to study
"I know, I know" award – for the student who always has the answer
The "I'm hungry" award – is given to the student who is always ready for lunch
If you know your class well, these are easy to come up with and customize for your individual students! Making student awards funny like this will show them that you pay attention to them every day.
Use Editable End-of-Year Students Awards
If you don't have a template already, use these editable end-of-year student awards to end your funny superlatives. Make the student awards funny by entering and printing your own text. There are 37 unique awards included, but you can customize them any way you'd like. Just enter the student award and the child's name. Print them in black and white or color and present them to students when the year is up. Use colorful cardstock to make them unique and bright!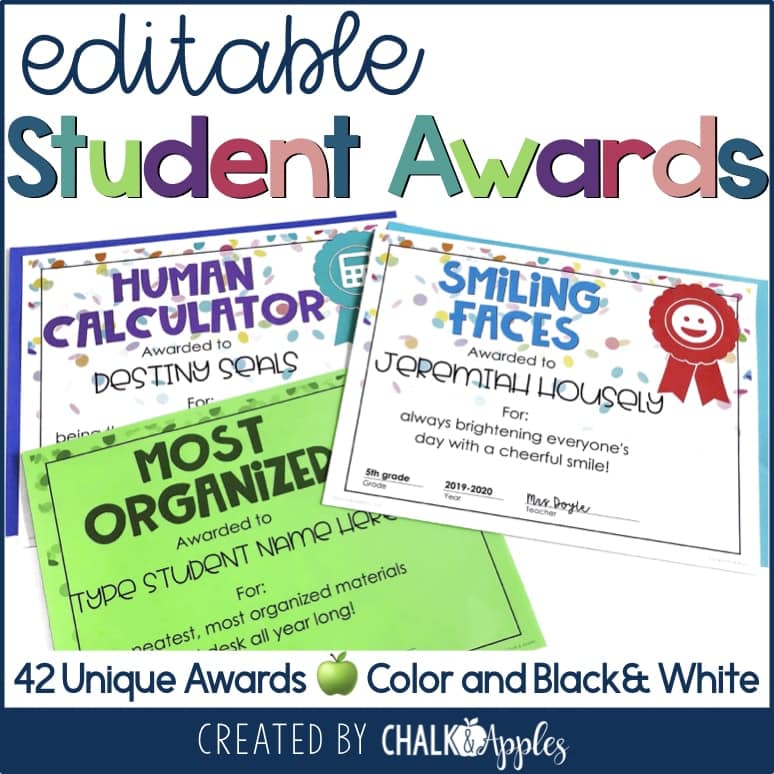 Making classroom student awards funny shows your students you care and you took the time to think about their personality and their traits while printing the awards. As the year goes on, you'll be able to pinpoint the superlatives of your students and give them awards that mean something to them as they head to their next classroom.