I don't know about you, but I am always in a rush to get out of the door in the mornings. It seems like I never have time for a "real" breakfast. Plus, with just my son and I at home in the morning, it feels a little silly to cook breakfast for just me and a toddler who may or may not decide to eat what I make today. A muffin in a coffee mug is a great one-serving breakfast that I can whip up on busy mornings with ingredients I always have on hand in my pantry. (And this one is a winner with my son, too!)

I ran across the idea of making breakfast in a coffee mug on Pinterest, and I started playing around with some recipes. Some of them were terribly gooey, some were okay. After a lot of trial and error, I finally found a base muffin recipe that I liked. Then comes the fun… once you have the base recipe, you can start adding things… whatever you have on hand.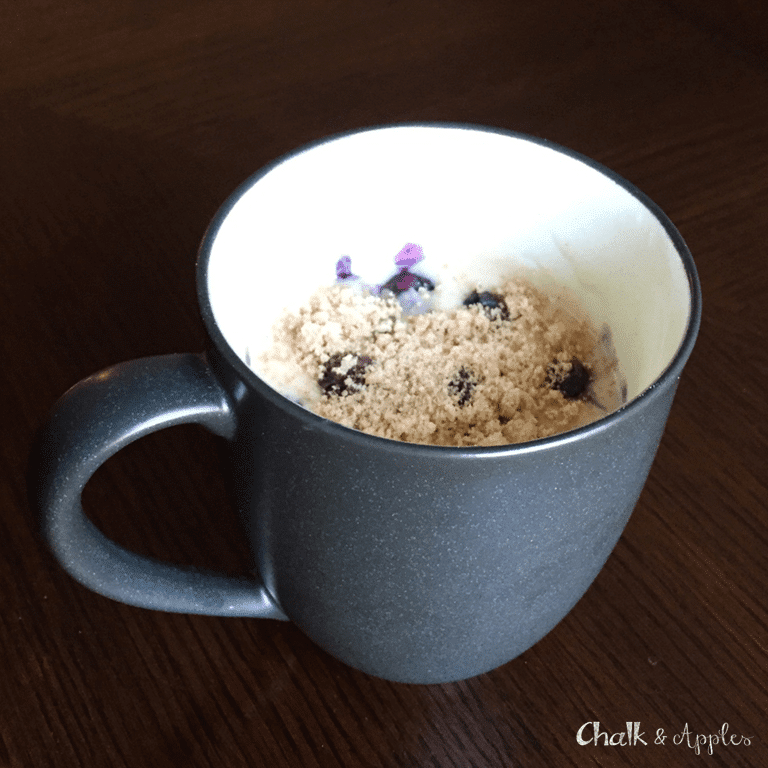 Today I'm sharing my favorite muffin in a mug concoction, inspired by a Blueberry Buckle that my mom made last summer. I had never heard of Blueberry Buckle, but we had tons of blueberries from a friend's farm, so we had to get creative about how we used them! Blueberry Buckle is a sort of coffee cake-y dessert with fresh blueberries and a delicious cinnamon-sugar topping. Sometimes, I throw a little nutmeg into the topping mix. It gets a pop of freshness from a little bit of lemon juice. So good!
I make mine either in a coffee mug or in a small Pyrex glass dish if I want to take it to work with me. First planning in the morning has its drawbacks, but it also means I can eat breakfast while I plan!
To save time in the mornings, I mix up a batch of the topping  and store it in a plastic storage container in my spice cabinet. Then I can just sprinkle a little on top of my batter, and I'm ready to go.
Blueberry Buckle Muffin in a Mug

Prep time: 5 minutes • Cook time: 2-3 minutes • Total time: 7-8 minutes


Ingredients
2 tbsp




butter

¼

 c + 2 tbsp


self-rising flour

2 tbsp




sugar

¼

 c


milk

¼

 tsp


vanilla

1 squeeze




lemon juice

¼

 cup


blueberries

¼ cup brown sugar

1 tsp cinnamon

1 tsp flour
Directions
Melt the butter in a coffee mug or small glass dish.
Add flour, sugar, milk, vanilla, and lemon juice. Mix well with a fork.
Gently stir in blueberries.

 

 

For topping: Mix brown sugar, cinnamon, and flour until evenly distributed. Sprinkle a little of the topping on top of muffin batter. Store remaining topping in an airtight container.
Cook 2 minutes 15 seconds in microwave. (Microwave cooking times vary. This time is perfect for my 1000w microwave.)